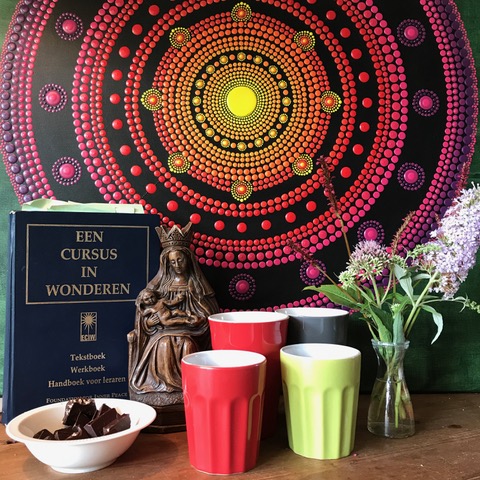 Fear or Love
I am often asked what A Course in Miracles is all about.
First: it is a very thick book. But do not let the size discourage you; the content is so beautiful and loving that even after so many years, I can still be touched by it.
It started in the 60s, when there was a tense atmosphere at Helen's work. She said: "There must be another way!" And with this, her life changed. She began to `hear` a voice, so to speak, an inner dictation. Years of writing, dividing it into paragraphs and chapters so that it would become readable (without tinkering with the text or the order), typing and searching for someone who wanted to publish it, followed. In the book, Jesus tells about his life, about what God really is and how we ourselves can learn to live from Love and experience the Miracle of forgiveness.
The book consists of 3 parts: Textbook, Workbook and Handbook for teachers. This is not a course that you 'do and finish', but a lifelong commitment to becoming more and more conscious the choices you make. The Course is clear; there is only 1 Truth and that is Love. Everything else is a concept of ego (our thoughts, feelings of inferiority, opinions and judgments we have, think we are lacking, to just name a few …)
In English it is written in rhyme, as Shakespeare did. It has since been translated into 27 languages. If you want to have more information, I advise you to go to the official website: www.acim.org
I know, also from personal experience that reading the book and working on the matter can raise some questions. It is my passion to accompany you for a while along the path of spiritual growth and looking forward to meeting you!
"Our deepest fear is not that we are inadequate. Our deepest fear is that we are powerful beyond measure. It is our light, not our darkness, that most frightens us. We ask ourselves, who am I to be brilliant, gorgeous, talented, and fabulous? Actually, who are you not to be? You are a child of God. Your playing small doesn't serve the world. There's nothing enlightened about shrinking so that other people won't feel insecure around you. We are all meant to shine, as children do. We are born to make manifest the glory of God that is within us. It's not just in some of us, it's in everyone. And as we let our own light shine, we unconsciously give other people permission to do the same. As we are liberated from our own fear, our presence automatically liberates others."
Marianne Williamson